Menue
The Question Is: Who Am I?
(
Charles O. /Uirab
)
Introduction
At any common water-place throughout the world, whether a fountain, a lake or a river, one will find different kinds of animals: from an elephant to an ant, animals have to share the water. Sharing water has been an important element in the lives of the people of Fransfontein as well. While searching for water, people had to migrate long distances. Most families that currently live in Fransfontein settled in the area during the 19th century. Migrants came from different regions and today we find in Fransfontein all major ethnic groups present in Namibia. All this due to one common factor: water. There is a beautiful fountain situated in the heart of Fransfontein.
Running in the Family
The question I want ask is: Who am I? I am Charles Otto Williams /Uirab, son of the soil of Fransfontein, situated in the Kunene-region of a country called Namibia. Emma /Uiras, maiden name Sabatha, is my mother. From her father's side, she belongs to the royal family of the Swartboois, which is part of the Nama ethnic group. My father, Dawid Frederick /Uirab was a Damara from the Tsoa-xau-daman clan. He was originally from Otjimbingwe in the Erongo-region, but migrated to Fransfontein due to work commitments. He was a teacher by profession. My mother always asks me: "How can I separate your blood? The Damara-blood from your father, the Nama-blood from my side? It is united and cannot be separate." It was these statements that made me interested in following up my family-history, to dig until I got to the root of the tree. My findings let me to the same question. The blood running through my veins is Damara, Nama, German and British. How can I separate this interlinking within my body? How can I change who I am? I cannot. Although I regard myself as a Nama (Swartbooi-clan) I am a multi-ethnic human-being and I must accept that fact.
My grandmother was Rebecca Kleinschmidt, granddaughter of Missioner Heinrich Kleinschmidt (German), who was also married to a multi-ethnic woman (German and Nama), by the name of Hannah. My grandfather, Cornelius Koso Sabatha was the son of Charles Sabatha, a British national. Thus, the answer(s) to my questions are simple: We just have to live together, respect and understand each other. Below are also some examples of family links within our community: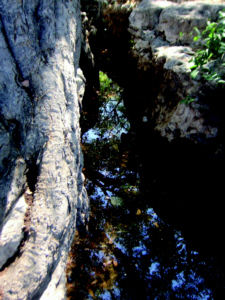 Fig 1: Fransfontein Fountain
I, C.W.O. /Uirab, am married to a Damara woman called Emmerencia Guriras from the !Oe-#ân clan from another village.
Mr. Ben Xamiseb, a Damara-man, the headmaster of the local school, is married to Mrs. Hannah Xamises, maiden name Pienaar from the Swartbooi-clan, a Nama group.
Dr. Dawid /Uirab, from the Swartbooi-clan, my brother, is married to Mrs. Kapati /Uiras, maiden name Ilende, an oshiWambo woman from the Kanjera-clan from Okahao.
Mr. Julius Hendricks, a Nama from the Swartbooi-clan, is married to Mrs. Jude Hendricks, maiden name //Garoes, a Damara-woman from the /Gowani clan.
Ms. Godhardine Inatjize Murorua, a Herero-woman and Mr. Eddie Sabatha, a Nama-man have a daughter, Theresia Murorua.
Ms. Gedrud Hendricks (Nama) and Sebedeus /Howoseb (Damara) have a son, Abraham Hendricks.
Mr. Lazarus 'Pakka' Pienaar (Nama), from the Swartbooi-clan married Magdalena, maiden name Hendricks, also a Nama from the Swartbooi-clan. This particular case in point is evidence that inter-marriage within the same family-tree also takes place.
My niece, Magrietha, maiden name !Aebes, is the daughter of Emma !Aebes, maiden name Pienaar, a Nama, and Mr. Godlieb !Aebeb, a Damara from the #Ao-daman clan. She (Magrietha) is also married to a Damara, Nama Mison Haraeb, a cousin of my colleague, Joseph "Jorries" Seibeb.
Similar connections can be made visual through genealogies. The following genealogy, also called a 'family tree', will show the inter-linkage between the Swartbooi family and the Seibeb family.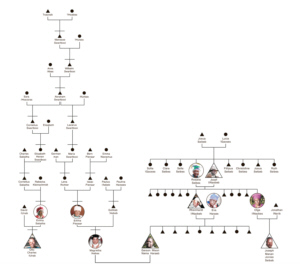 Fig 2: Family tree showing the inter-linkage
between the Swartbooi family and the Seibeb
family (Click to enlarge)
The Family Tree
While I was doing research on my family-history, Dr. Michael Schnegg and Dr. Julia Pauli had arrived in Fransfontein to also do research. One day we met, and I told them my plans and about my research, and this is where they started to help me. We started making a family-tree. Herewith, we want to show that different ethnic groups have become one through marriage, fertility and other contributing factors, like migration. We also want to show that whatever your ethnic group or religion, we can work together to achieve a common goal. The inter-linking between the Swartboois and the Seibeb family is as follows.
Shaping the Family Tree through Migration
Herewith, I am laying out the migration-route of the Swartboois. They settled at Rehoboth (/Anes) in 1845 under the leadership of Chief Willem Swartbooi (!Huiseb #Haobemab), and with Missioner Heinrich Kleinschmidt. The Swartboois had to leave Rehoboth because of the constant threat of conflict from Captain Jan Jonker Afrikaner. They moved from Rehoboth to !Ameib near Karibib in the Erongo region. It was on this road that Missioner Heinrich Kleinschmidt lost his life. The Swartboois then settled at !Ameib in 1867. Here, they were under the leadership of Chief Abraham Swartbooi (!Ábeb !Huisemab). They had to leave !Ameib in 1873 because of the scarcity of water. They moved through Sesfontein to Kaokoland up into Angola, but moved back again through the same route and settled at Otjitambi in the late 1870´s.
In 1887 they settled at Fransfontein, under the leadership of Cornelius Swartbooi (/Hôa-/arab !Âbemab), together with Heinrich Riechmann as their Missioner. The map shows the migration-route of the Swartboois.
Conclusion
Understanding my and my community's family histories is to me the beginning of a healing process. Through this we are discovering ourselves, knowing our origins. It is also the starting point of better things for the community of Fransfontein, making known the family-linkages and some of the family histories of the people living in the Fransfontein area.
Designed with Free CSS Templates